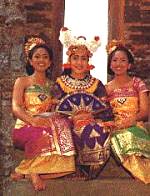 When we stepped out of the airport we were greeted by our tour guide Paul from Rama tours and then driven to the Hotel. Included with the $399 package was airfare, hotel for three nights at the Rama Baruna, a breakfast buffet, and a Rama tour to Ubud the next morning.
So our adventure to Bali began where most tourists start there escape to Bali in the rather touristy city of Kuta. It reminded me a lot of Weikiki, Hawaii. Lots of luxurious hotels, resturaunts, shopping, and crowds of sun burned tourists. I really enjoyed living in luxury.
The first day I discovered the hotel had professional one hour massage sessions for $6. I couldn't pass up a deal like that. Amy even talked me into a manicure, pedicure, and facial for $10. My body was never this pampered before.